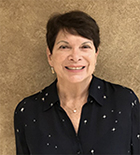 PRESIDENT'S MESSAGE

I am in my 7th year as a member of COPW. My first office was Secretary, then Vice President and now I am the President of one of the finest support groups for the LA Philharmonic.

COPW now has 84 members-women and men. Our group started over 50 years ago by working women who wanted to support the LA Phil but were not able to take days off to go to meetings; but were able to volunteer on weekends. In 1999/2000 men were invited to become members. To be a member of COPW all that is required is to pay yearly dues, have a subscription to the LA Phil and be willing to volunteer to help and participate in activities and events; and have a love of music. The Board of Directors meets 6 times a year.

COPW has 3-4 reasonably priced musical events during the year, always with exciting musicians and personalities. These events are in venues around the Los Angeles area and sometimes in private homes. We also provide interesting volunteering opportunities; Toyota Symphony for Youth, YOLA, Music Mobile, Pasadena Showcase House, to name a few.

We will start the New Year with our Annual meeting which will be held on February 9, 2019, at the Napa Grille. Everyone is welcome to attend. Anne Marie Gabriele, the second oboe of the LA Phil has generously offered us her time and talents for entertainment. I wish all a very Happy Holiday Season with Peace on Earth and Music Everywhere.

Cec Schulman, President COPW


Opening the Concert Hall to Disadvantaged Children is a cornerstone of COPW's mission.

It's not about the orchestra. It's not about the hall. It's not about the games and activities. It's about the kids, showing youngsters who are among the most vulnerable in our community that beauty still exists and the mystery of classical music is not so mysterious after all.

For more than eight years, the Committee of Professional Women (COPW), an Affiliate of the Los Angeles Philharmonic has donated tickets to youngsters residing in group homes to attend a performance of the LA Phil. These half-day events are presented eight times a year at Walt Disney Concert Hall and are a part of the LA Phil's Symphonies for Youth concerts sponsored by Toyota. The concerts are dedicated to and designed for youngsters ages five to eleven.

COPW received a Gold Book Award from the League of American Orchestras for this program in 2008. Since that time, the number of tickets donated has increased 50 percent and in 2013 the program was expanded to include residents of domestic violence shelters. Mothers and their children are now able to attend a concert together—
many for the very first time—to experience beautiful music in a safe and welcoming environment.

OUR MISSION


The mission of the Committee of Professional Women is to encourage women and men in business and the professions to support the Los Angeles Philharmonic Orchestra. By attending concerts and exploring cultural and educational events sponsored by the committee, we seek to further our appreciation and understanding of symphonic music and the arts in the greater Los Angeles area.

Learn more about us . . .






OUR EVENTS
COPW hosts four events each year, held at private homes and venues throughout the Los Angeles area. Cost for attending these musical and cultural events is kept at a reasonable price and include a meal or tea, as well as live performances and lectures. In addition, COPW arranges a long summer weekend of music for members and their friends at various music festivals in Southern California. View our events . . .